COSMETIC DENTISTRY
This branch of dentistry focuses on improving a person's appearance, i.e. their smile which benefits their confidence and overall quality of life. Cosmetic dentistry is viewed in the same way as dieting, exercise and cosmetic surgery, as means of enhancing one's physical and facial appearance.
Around 25% of people in the UK have had cosmetic dentistry to improve their smile.
COSMETIC DENTISTRY PROCEDURES
There are a variety of procedures available which improve the quality and appearance of your smile. These are:
Composite bonding
Dental implants
Full mouth reconstruction
Gum contouring
Inlays and Onlays
Lumineers
Smile makeover
Teeth whitening
Veneers
White fillings
The choice of procedures varies between age groups. Younger people opt for teeth whitening whereas older people choose veneers, crowns or dental implants.
Cosmetic dentistry is especially popular with the 45 to 55 age group who are most likely to undergo these procedures.
Today, how you look is more a matter of choice than genes and it is no different when considering your choice of smile.
We all want healthy teeth and gums, fresh breath and the confidence and comfort to choose whatever we would like to eat. But we also want to smile freely, with poise and the assurance that our smile does what it is meant to do: to present and represent us; to be an attractive and welcoming feature.
Using the latest computer imaging technology we are now able to determine the very best solutions, show you the potential results and allow you to choose your ideal smile. You can discuss what you don't like about your teeth, learn about your options and receive an accurate quote for the treatment involved.
The smile you deserve is only a call away.
Composite Bonding
What is composite bonding?
Composite bonding (also known as tooth bonding or dental bonding) offers a solution for minor damage or gaps in teeth. When carried out as a cosmetic treatment, it is not available on the NHS, but here at Ambience Dental Practice we offer cosmetic composite bonding as a private service.
Bonding is usually used for filling chips, fractures or gaps between teeth, or for fixing discolouration. A composite resin is attached to a tooth and shaped to restore its original appearance. The colour of the resin is matched to your teeth, so it will appear as though it is a natural part of the tooth.
Composite bonding can help you achieve a smile you're happier with. Contact Ambience Dental Practice to find out more about composite bonding.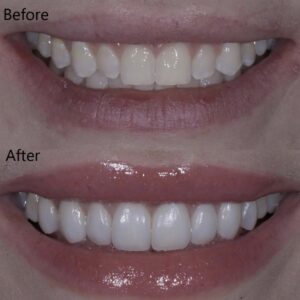 What are the benefits of composite bonding?
Composite bonding can usually be carried out in just one visit to the dentist. It's a fast and effective way to fix minor cosmetic issues. The composite is hardened using UV light as soon as it's applied, resulting in a tooth that can comfortably bite down by the end of the appointment.
Bonding is also a non-invasive procedure. With alternatives such as crowns and veneers, part of the tooth is permanently removed. For composite bonding to be applied, the surface of the tooth only has to be roughened to help the resin to bond, meaning the structure of the tooth remains intact.
Composite bonding can make cosmetic improvements to your smile quickly, without causing further damage to your teeth.
Composite bonding can be a cheaper alternative to crowns or veneers. It's also a less invasive process and can be completed in just one appointment. And with regular brushing and good oral hygiene, your composite bonds should last for years.